Just for fun, I thought I'd post some of James's favorite toys (or least favorite toys!) based on a survey done in my online mommy group. So here goes!
What toy has your little one played with the longest? How many months?
James has played with this thing since 6 months old and LOVES it!
What is your LO's favorite bedtime toy?
He just recently started having things in his crib, so I'll say his favorite bedtime toy is a book we read together.
What is your LO's favorite bathtime toy?
James LOVES these floaty things. The penguin is his favorite (probably because I make it sing the "Phenomena" song from the muppets... don't ask why!) And yeah, he likes to suck the water out of them. Ugh.
What is your LO's favorite NOISY toy?
A sesame street cube that he got from a friend of ours. It plays one of two songs continuously LOUDLY and does NOT shut off after any period of time unless I go turn it off. And James just figured out how to turn it on by himself. :-(
What is your LO's favorite quiet toy?
We LOVE this book we got at the aquarium. I pull it out wherever we are and James is entertained for a good 10 minutes.
What is your LO's favorite plush toy?
He likes a little penguin his aunt and uncle gave him. He's always holding onto it as he falls asleep.
What is your LO's favorite "classic" toy?
This horse that my mom saved from my childhood. He pushes it around the floor and sometimes walks with it.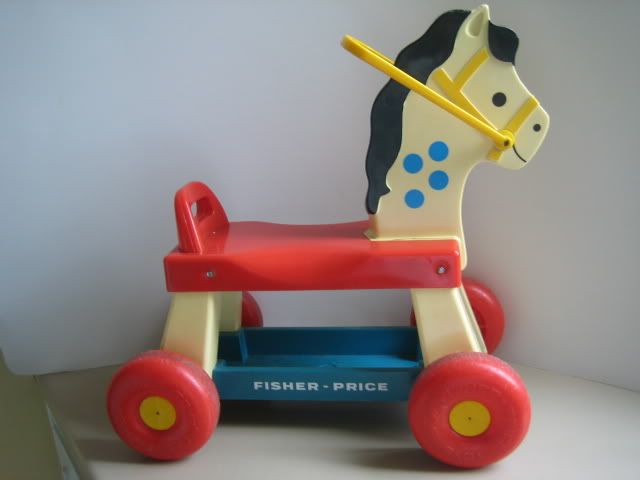 What is your LO's favorite non-toy play item?
A crab child's seat cushion from Ikea. He likes the strings on it.
What is the most worthless toy LO owns?
This silly ring stacker. The most he's ever done with it is take all the rings off, then he's done and on to something else.